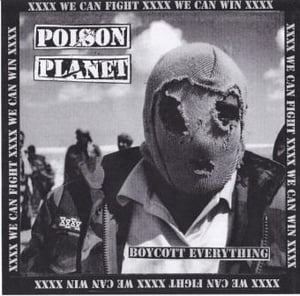 $

10.00
The 3rd EP from POISON PLANET encapsulates the band, our ideas and our evolution. These 5 songs were written from 2006-2011 and finally recorded for an EP on REFUSE RECORDS for our European tour in the summer of 2011. We rushed the layout for the European version and knew that we were very proud of the record so we decided that when we got back from tour that we wanted to release it in the US and give it all of the imagery and ideas that it deserved.
The US version is a 1 sided 12" EP with a screen printed B side depicting the desperation of the social and political climate world wide right now. The lyric sheet is 11" x 22" and is filled with ideas for people to read, consider, and discuss. And all of that is topped off with a 24"x36" poster.
Comparisons to The Repos, Dead Kennedys, Void, COC, and early Boston hardcore are all commonly thrown around. These songs are predominantly simple raging hardcore contrasted with bits of noise and creep.
1st press black vinyl. ThirdxParty/NotNormal.
Track listing:
Liquor Flesh Trade
Boycott Everything
I Hope You Choke
Border Fences
Tidal Leveling